TECHNOLOGY CONSULTING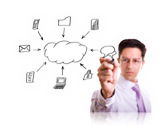 Because the power and speed of technology have changed dramatically over the recent years, it is becoming more difficult to keep on top of what is new and what technologies can best support your organizations IT strategies. Idigital is able to help our customers get ahead and have experience working helping clients assess, select, and implement technologies.
OUR PROCESS
1.

Knowing the Current Situation

We begin projects with a technology assessment to build a solid foundation for making modifications to improve efficiency, security and usability.
2.

Create an Effective Roadmap

We help our clients develop the necessary IT governance and structure to ensure effective technology selection and implementation.
3.

Selecting the Right Technology

Our support goes beyond planning and our consultants provide vendor independence ensuring unbiased and objective. During this process, we will give you the right tools, tactics and checklists to help the process.
4.

Implementation

Once selected, our teams can assist in during the implementation process including system installation including networks, hardware and processes.
Areas of Expertise
Idig helps you solve your most challenging software testing problems. We can provide quick resolution and offer suggestions for significant improvement.
Network & Infrastructure Support
Network Security
Emerging Technologies
Security, Privacy and Compliance
Cloud Services Support
Outsourcing
Interim IT Management
Not Sure What You Need?
Next Steps:
Request a one-on-one consultation to find out how Idigital can help you get your application to market.
Idigital combines extensive experience and proven business methodologies to create practical and customized approaches to help our clients. Our focus is on addressing strategy, planning and implementing issues in the areas of Information Technology, Application Development and Network Infrastructure.