DESIGN AND USER EXPERIENCE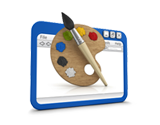 User experience is the intersection of graphic design, implementation architecture, content strategy and quality code. When each of these disciplines is focused on, user are able to effortlessly find what they are looking for.
BUILDING THE USER EXPERIENCE
1.

Design Toolbox

We take advantage of best practice methodologies and creative talent to improve your user experience.
2.

Design Deliverables

Our clear design deliverable will help you communicate your design concepts and extend your vision into compelling, interactive service.
3.

Test, Compare, Improve

Our Usability Evaluation services can help you test your product or websites ease of use and identify key areas to improve.
4.

Usability Evaluation

Benchmark usability on your current product or website, so you can evaluate how changes impact.
Proven Performance
As your single provider for a range of application consulting services, Idig build in-depth knowledge company, systems and business processes to address needs at any point of application life cycle.
Reader Apps
Workforce Automation
Social Media Integration
Location-Based Services
Commerce
Stream Apps
Not Sure What You Need?
Next Steps:
Request a one-on-one consultation to find out how Idig can help you get your application to market.
At Idigital your app starts here, and your app starts with the design and user experience. Our approach is a realization that design and user experience are not after thoughts. It is a user-centric approach to development that start with the user, how they work, and what helps them to work better. In doing so, are able to bring out.