MOBILE APPLICATION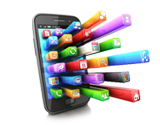 The mobile application development process starts with a definition of the mobile application, understanding key client components, identify where it will be used, key patterns and technology considerations, as well as identifying specific scenarios such as deployment, power usage and synchronization.
APPLICATION BUILD PROCESS
1.

Design Requirements

We take advantage of best-practice methodologies and innovative toolkits to get applications up and running.
2.

Project Plan

Approcess plan is created and used to identify key milestones and provide trackable action items.
3.

Agile Development

Regular meetings are held to identify accomplishments and current action time to meet the next deadline.
4.

Testing and QA

Throughout the build, we utilize regular testing to identify issues in advance, so they can be addressed.
Areas of Expertise
Idig works with many industries and bring many specific application capabilities for the specific devices including iPhone, iPad and Windows Mobile Phone. Some areas we specialized in:
Reader Apps
Workforce Automation
Social Media Integration
Location-Based Services
Commerce
Stream Apps
Not Sure What You Need?
Next Steps:
Request a one-on-one consultation to find out how Idig can help you get your application to market.
Our mobile development team is able to work from the highest strategic level through product design, development and launch. Our broad spectrum of industry skills allows us to have a good understanding of implementation costs and trade-offs during the earliest strategic phases.